Project Overview
全国の就業者10万人の「はたらく」ことに関する意識調査アンケートのデータを集約したサイトです。「はたらく上で重視していることは何か」「年代別でどんなことをハラスメントと感じるか」など、幅広い世代の多様なデータから、就業している人の価値観や生活の実態などが見えてくるコンテンツとなっています。
世代・性別などの切り口でもデータを確認することができ、メディアやPR担当の方が目的に合わせてデータを活用することも可能です。
This is a site that consolidates data from a questionnaire survey of the attitudes of 100,000 workers nationwide toward "working". The contents of the site provide a glimpse into the values and lifestyles of working people through a variety of data from a wide range of generations, such as "What is important to you when you work" and "What do you consider harassment by age group?
Data can also be viewed by generation, gender, and other cut-off points, allowing media and PR staff to use the data for their own purposes.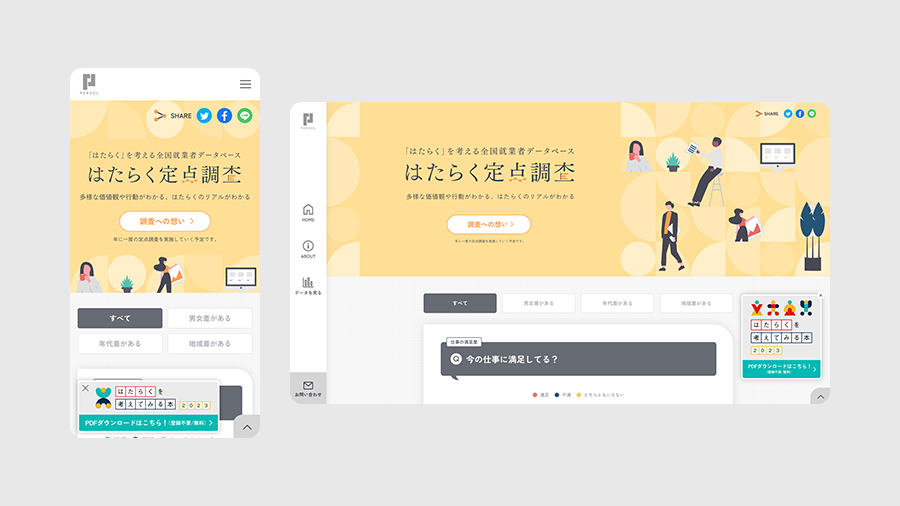 credits
client
PERSOL HOLDINGS CO., LTD.
agency
service
広告制作 ( ADVERTISING-PRODUCTION )
システムコンサルティング • システム開発 ( SYSTEM-CONSULTING )