Experience in VR! Take a look at satellite precipitation data!

VRで体験!衛星降水データを見てみよう!
back to works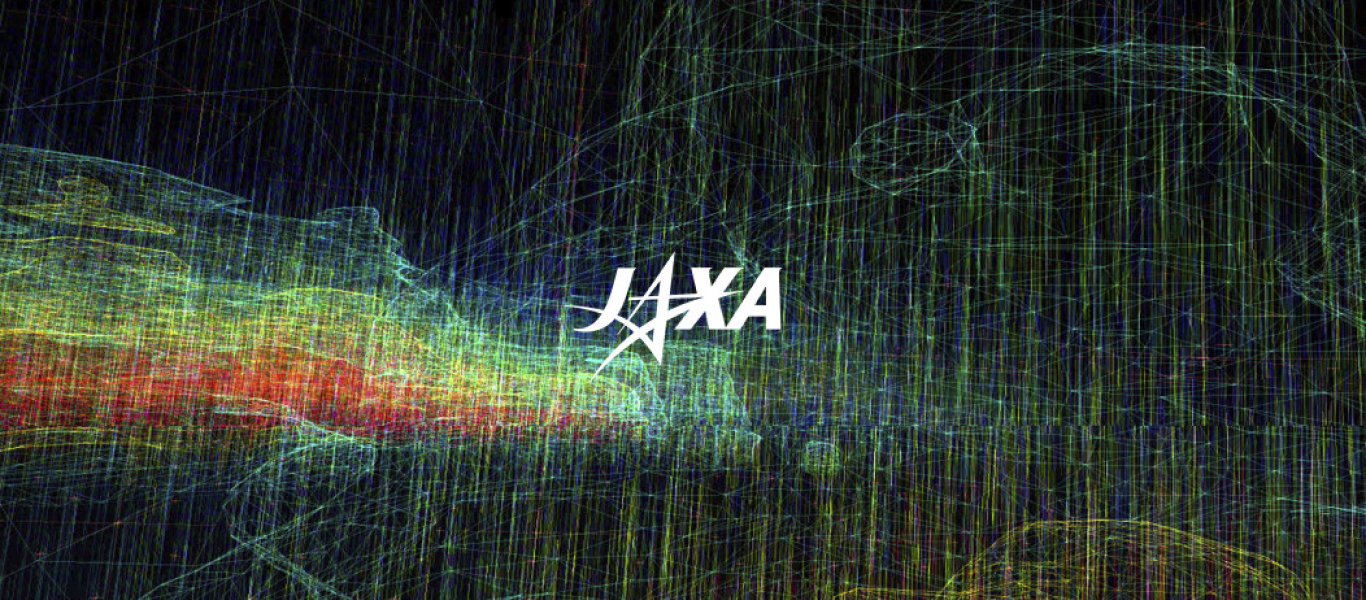 Idea
観測データの世界を自由に飛び回る、没入感たっぷりのVR体験。
An immersive VR experience that allows you to freely fly around the world of observation data.
Project Overview
JAXAの持つ衛星からの膨大な観測データを利用したVRコンテンツの開発を担当しました。

人工衛星「GPM/DPR」が観測した降水データを基に、「雨と雪」「雨・雪粒の粒子サイズ」「降水の強さ」の3つの要素をバーチャル空間上で可視化し、その世界を自由に探検することができるVRコンテンツです。Oculus Riftを使って体験することができる本コンテンツは、2016年10月15日に「筑波宇宙センター特別公開」内のイベントブースで公開されました。雨音をベースにした落ち着きのあるサウンドとともに、点と線、色とモチーフの変化で描画された観測データが、没入感たっぷりの世界を演出します。
We were in charge of developing VR contents using the vast amount of observation data from JAXA's satellites.

Based on precipitation data observed by the GPM/DPR satellite, this VR content visualizes three elements in virtual space: "rain and snow," "rain and snow particle size," and "precipitation intensity," and allows visitors to freely explore the world of this content, which can be experienced using the Oculus Rift which can be experienced using the Oculus Rift, was unveiled on October 15, 2016 at the event booth in the "Tsukuba Space Center Special Open House". With a soothing sound based on the sound of rain, the observation data drawn with dots and lines, colors and motifs change to create an immersive world.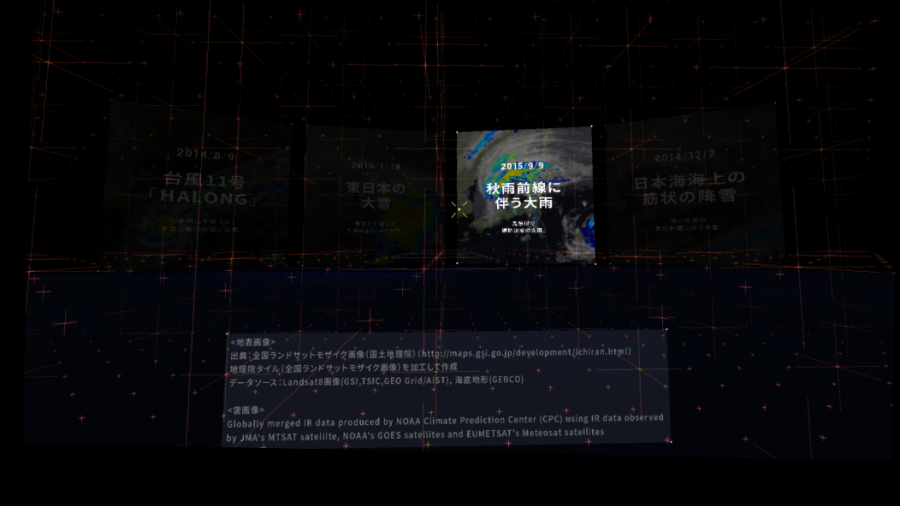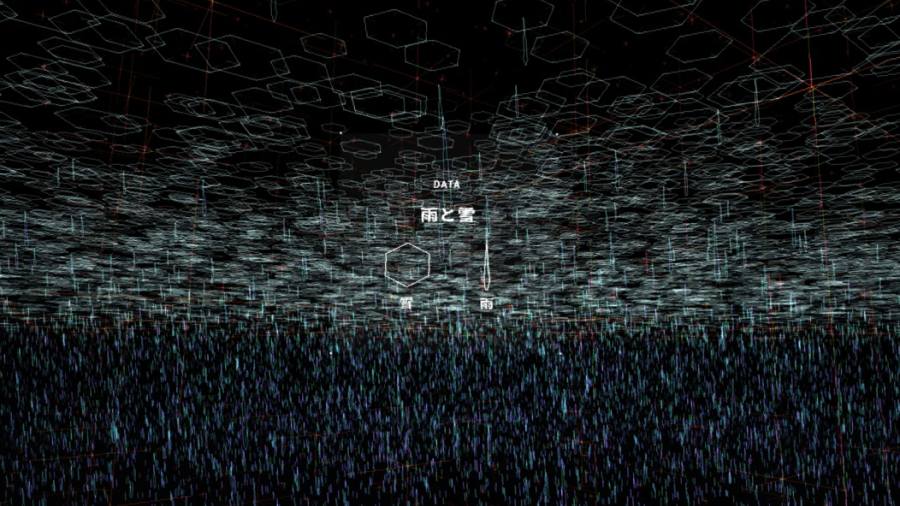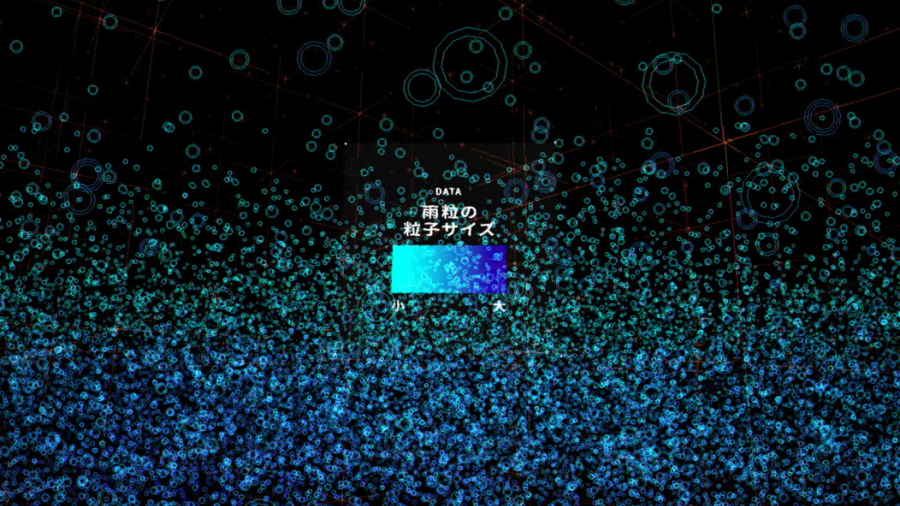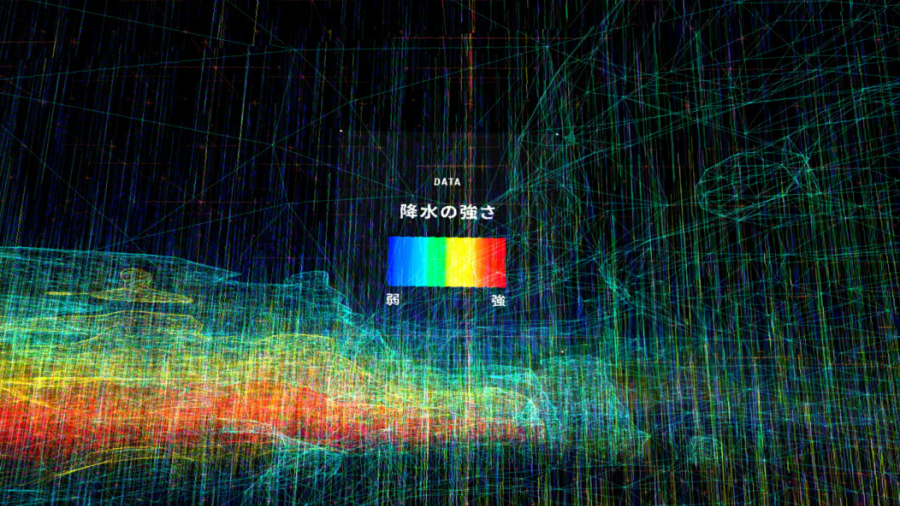 credits
client
Japan Aerospace Exploration Agency
agency
service
リアル体験 ( LIVE-EVENT-PRODUCTION )
output
Web site
Event
Branding
System