Problems
ブランドを体現するメディアの新規構築
Building new media that embody the brand.
Project Overview
オルビス株式会社の新規オウンドメディア「ORBIS IS」の立ち上げを行いました。
オウンドメディアの「ORBIS IS」は生活者とブランドを繋ぐコミュニケーションハブと位置付け、コーポレートサイトとしての機能を持ちながら、ブランドのアクションを体現するために「VIEW」「LIFESTYLE」「RADIO」などの切り口でコンテンツを発信しています。また、サイトのターゲットを「生活者」と定め、サイトが生活者によりそうものとするために閲覧時間帯によってサイトの背景カラーが変化していくなどの仕組みを取り入れました。
CMSにはWordPressを導入し、インフラの設計においてWAFの導入やJamstackの構成を採用することで脆弱性への対策を行っています。
フューチュレックは、UI/UX設計、デザイン、サイト開発、インフラ設計・実装の制作工程全てを担当しました。
We launched the new owned media "ORBIS IS" for ORBIS Inc.
The "ORBIS IS" owned media is positioned as a communication hub connecting consumers and the brand, and while functioning as a corporate website, it also provides content from such angles as "VIEW," "LIFESTYLE," and "RADIO" to embody the actions of the brand. The site's target audience is "consumers" and "consumers" as well. In addition, the target of the site is defined as "Sei-katsu-sha," and in order to make the site more relevant to the sei-katsu-sha, the background color of the site changes according to the time of day when the site is viewed.
WordPress was used as the CMS, and the infrastructure was designed with WAF and Jamstack configuration to prevent vulnerabilities.
Futurek was in charge of the entire production process: UI/UX design, design, site development, and infrastructure design and implementation.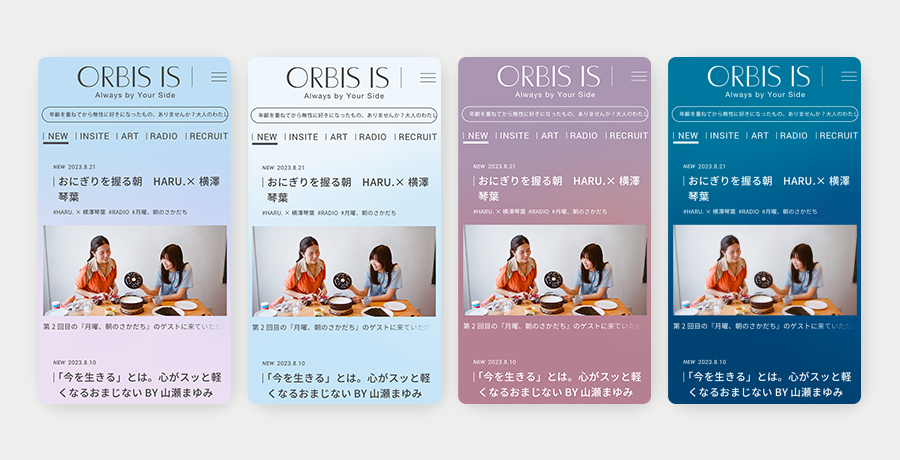 credits
client
agency
EVERY DAY IS THE DAY CO., LTD.
service
広告制作 ( ADVERTISING-PRODUCTION )
システムコンサルティング • システム開発 ( SYSTEM-CONSULTING )