Problems
マレーシアでは子どもの「発育診断」を受けられる診療所が極端に少ないため、自分の子どもの発育具合を正しく把握できずに心配になる親御さんが多い。
In Malaysia, there are extremely few clinics where children can receive "developmental diagnosis". Therefore, many parents are concerned about their own children's development because they do not have a correct picture of their own children's development.
Idea
子どもの発育具合を診断できるスキームを開発して、保育園の先生でも手軽に発育診断が出来るアプリを企画・設計。
また、子どもそれぞれの適正や長所を伸ばすための施設をクアラルンプール最大のショッピングモール内にオープン。
We developed a scheme to diagnose children's developmental status, and planned and designed an application that allows nursery school teachers to easily diagnose their development.
In addition, we opened a facility in the largest shopping mall in Kuala Lumpur to develop the aptitude and strengths of each child.
Project Overview
MacCannの社内ベンチャー企業「TOY8」が企画した、保育園の先生の手でプロの発育診断を実施できるAndroid用アプリを開発しました。発育診断ができるクリニックへのアクセスが難しい家庭の子どもの発育具合を診断できるスキームを開発して、マレーシアの首都クアラルンプールの保育園施設に普及を試みました。
子どもの発育に関する専門家監修のもと作成されたゲームを進めることで、子どもの発育具合が診断できます。保育園でも負荷なく運用できるように、スタート画面の後は3〜5歳の子どもでも自身で最後までゲームを進められるようにUI/UXを設計しました。

「子どもには誰しも持って生まれた得意領域があり、その部分を伸長させる」という「マルチプル・インテリジェンス」の考え方に基づいて設計された知育施設の体験型iPadアプリも開発しました。
ショッピングモール内では、備え付けのiPadで本アプリを使用することができ、アプリでは撮影と物語を入力をすることでオリジナルの漫画アニメーションを制作する体験ができます。子どもたちはストーリー展開に適したセリフを自分で考えて入力し、主人公になりきった顔で写真撮影をすると、自分が考えたストーリーと撮影した自分の顔がマンガとして生成され、アニメーションとして動き出します。
ストーリーは10パターンあり(2020年10月時点)、ストーリーの結末は撮影した顔の感情によって変化するように設計されているので、何回でも楽しみながら子どもの才能を伸ばしていくことができます。
We have developed an application for Android, designed by MacCann's in-house venture TOY8, that allows preschool teachers to conduct professional developmental diagnostics in the hands of preschool teachers.
We developed a scheme to diagnose the developmental status of children in families who have difficulty accessing clinics that can perform developmental diagnosis, and attempted to disseminate this scheme to daycare facilities in Kuala Lumpur, the capital of Malaysia.
Children can diagnose their developmental status by playing a game created under the supervision of experts in child development. The UI/UX was designed so that even 3-5 year old children can proceed to the end of the game by themselves after the start screen, so that nursery schools can operate the game without any burden.

We also developed a hands-on iPad application for an educational facility designed based on the concept of "Multiple Intelligence," which states that "every child is born with a certain area of strength, and we want to develop that area of strength.
The application can be used in the shopping mall on the iPads provided, and children can experience creating their own original cartoon animation by taking pictures and inputting their own stories. Children can think of their own lines for the story, input them, and take a picture of their face as the main character.
There are 10 story patterns (as of October 2020), and the ending of the story is designed to change depending on the emotion of the photographed face, allowing children to develop their talents while having fun over and over again.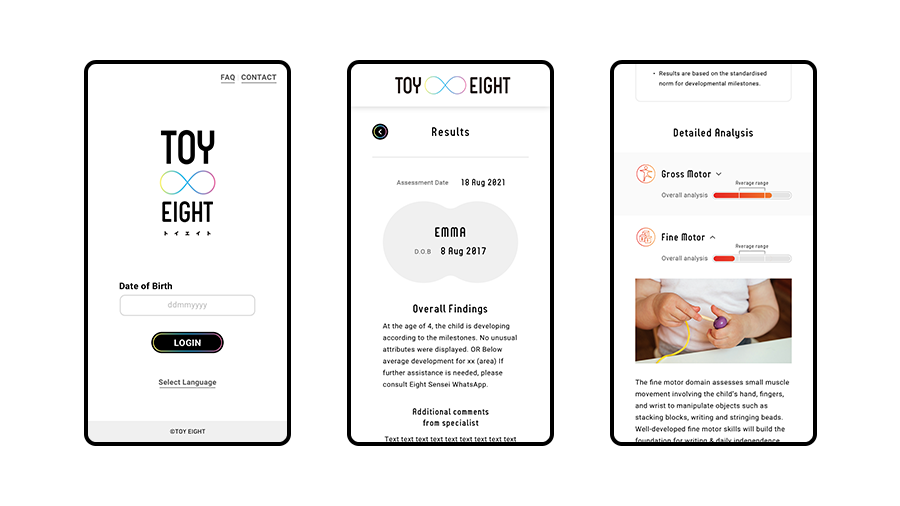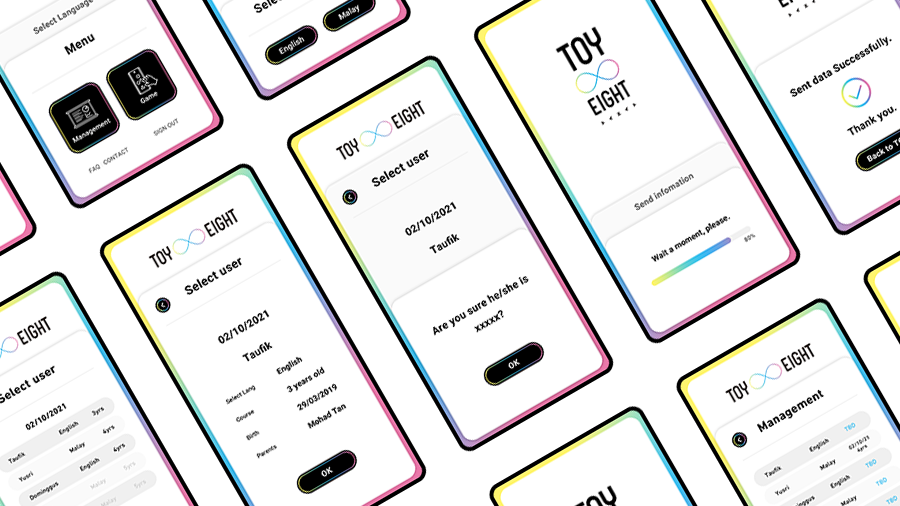 credits
client
TOYBOX CREATIONS & TECHNOLOGY SDN. BHD.
service
リアル体験 ( LIVE-EVENT-PRODUCTION )